The Kuwaiti Federation of Professional Women participated in a global conference in Egypt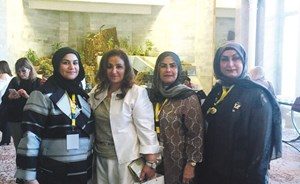 Kuwait always seeks equal opportunities for women
A delegation from the Kuwait Federation of Women Professionals for Small and Medium Enterprises participated in the conference of the International Federation of Businesswomen, Women Entrepreneurs and Entrepreneurship 29 which was held at El Mena House Hotel in the Arab Republic of Egypt under the patronage of President Abdel Fattah Al Sisi from 23 to 27 October 2017. The delegation, headed by the Vice President of the Federation, Khairiya Al Dashti and Amina Ismail, Shuaa Al-Gosaibi and Assil participated in all the activities of the Conference from the seminars, workshops and elections of the presidency of the International Council and in the celebration held by the Federation and attended by more than 700 female personalities from more than seventy countries, For businesswomen and professional women.
The Federation, which held its World Congress in Egypt, gave women business leaders an award for their impact on society and their contributions to the economic and social empowerment of women through their work. The Kuwaiti delegation expressed its pride and pride in participating in this conference, which coincides with the announcement of the current year 2017 for Egyptian women. The Kuwaiti delegation contributed to the conference, , Participated in the ceremony which was held as part of the International Conference of Women Entrepreneurs and Professionals.
In a session of the conference, the Kuwaiti delegation stressed that the new investment law in Egypt provided for a special article on equality between men and women in investment opportunities. The economic empowerment of women is one of the main pillars of the national strategy for the empowerment of Egyptian women 2030. Women are the backbone of community development Especially in Africa and Egypt. More than 50% of Africa's population and 49% of Egypt's population are women. Women throughout Egypt play a major role in promoting education, health and economic opportunity strategies, which are half of society. And that Kuwait always seeks to provide equal opportunities for women so that business women can contribute new investments, noting that giving equal opportunities contributes to supporting the Kuwaiti economy and community development.